Return to Headlines
Out for a Spin: Richmond Hosts 8th Annual E-Bike Challenge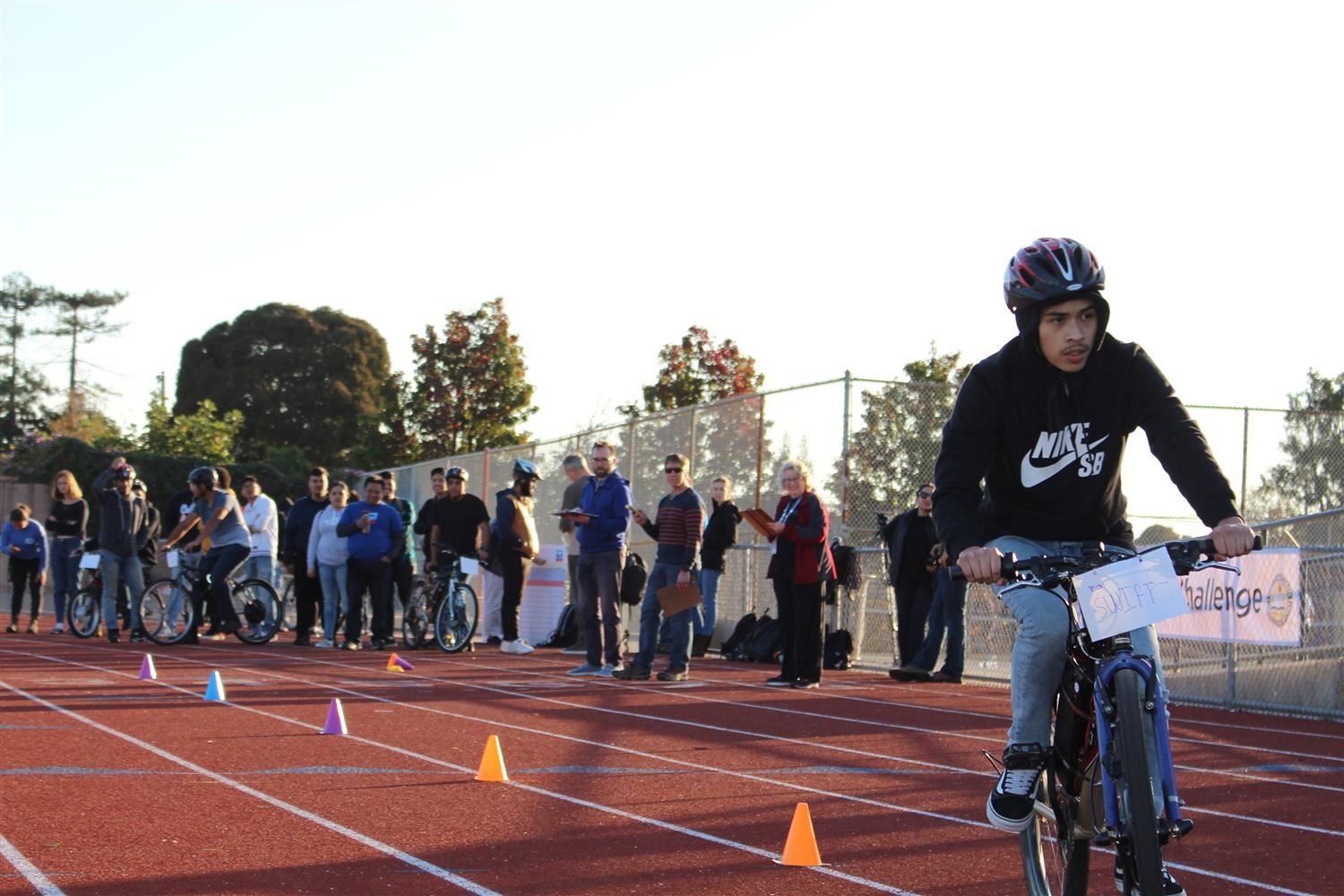 By Craig Lazzeretti
Special to WCCUSD
As the Richmond High School students set off on the 440-yard "run" from their respective lanes, it quickly became evident that this would not be your typical sprint around the track. The competitors' feet remained motionless on the pedals of their electric bicycles, and they seemed more interested in emulating a tortoise than a hair.
"I feel like I started off too fast," sophomore Sammy Hernandez said, assessing his performance in one of the events at Richmond High's eighth annual E-Bike Challenge on Nov. 15. "After that, I realized I had to slow down."
The goal for the Engineering Academy students who had spent two months fine-tuning the batteries, motors and brakes for their electric bikes wasn't to speed around the track but to use as few amp hours as possible in completing their lap. As the bikes slowly made their way across the finish line (no pedaling allowed), team mentors and judges jotted down each bike's time and watt hours from its power meter and recorded the score.
Scores were also tallied in five other categories to determine the overall winner: raw speed (drag race over 50 yards), braking (how long it takes to stop), maneuverability (slalom course), attraction (design of the bike) and weight (lightest bike receives top score).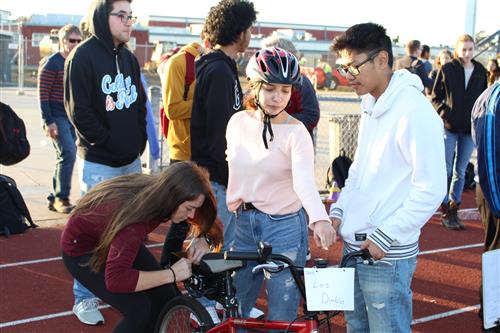 "I think this was by far the most even set of teams we've had, and it showed in the scores," said Cortis Cooper, a retired Chevron engineer who has run the program since its inception. "All the teams functioned really well."
Cooper noted that many of the students don't know the difference between a wrench and pliers when they first join the program, but that quickly changes. "It gives them a chance to get their hands on real tools and twist some nuts and bolts," he said.
For juniors Sachneet Arora and Amritpal Singh, their third time competing at the E-Bike Challenge was the charm, as they came away with the overall title. All the teams are partnered with mentors to help guide them through the design and building process, but Sachneet and Amritpal's mentor, Chevron project manager Bliane Nickerson, said his role was minimal.
"They didn't require much mentoring this year," Nickerson said. "They had it down. The growth of the kids has been really cool to see."
In addition to design and engineering, building a winning e-bike is also an exercise in financial management and strategy. Thanks to grants from the Chevron Richmond refinery, each team is given $650 to purchase its bike and components. Because the competition tests performance in a range of categories, teams must decide how to design and construct a bike that will excel in as many areas as possible while minimizing any shortcomings.
"It's like engineering a small project from start to finish," Nickerson said. "Some people put a lot into certain things like attractiveness. They can choose a strategy based on what they want to try to do better."
For this year's bike, Sachneet and Amritpal decided to spend less money on the bike itself so that they had more to spend on a quality battery and motor. Once they settled on their strategy, they scoured the web for the right components.
"Our freshman year, it took three days. The second year, it took two days. This year, it took two hours to find (the parts)," Amritpal said. "Next year, we're thinking about making two bikes."
Said Sachneet: "I've learned a lot of new things about bikes, what we need to use to find things, how to fix particular things. We learn new things every year. It's lighter, catching more speed than last year."
Sophomore Adrian Revuelta, who won last year's competition with his now-graduated cousin, said things didn't go quite as well this time around because his team decided to place the motor in the front of the bike, making it more difficult to control. "We might not win, but it's still a fun experience," he said.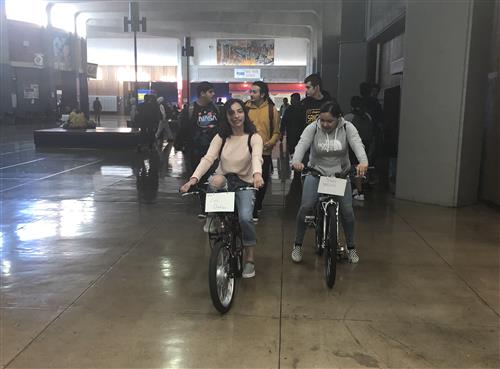 Richmond High teacher Marilyn Ahuna, who directs the Engineering Academy, noted that some of the mentors this year were UC Berkeley students.
"That relationship and talking about going to college, it's helping them gain that knowledge about what they want to do," she said. "Teams are showing up with more consistency week to week. The quality of the work has improved over the years. I think it's giving them more confidence."
Of the roughly 25 students that took part in this year"s competition, senior Rosa Rios was one of only three girls, something Cooper hopes to improve on in the coming years. Her team finished second.
"I've always been into technology ever since I was a young girl," said Rosa, who hopes to attend UC Berkeley next year. "It's been hard for females to go into this world of technology. You get to put this engine on a bike and experience new things."
When asked about her favorite feature of the team's bike, however, Rios chose something decidedly non-tech.
"Our sticker," she said, pointing to the colorful design featuring the team's name, "Baliens."