Return to Headlines
Pinole Valley, Richmond High School Students Earn Hall of Fame Honors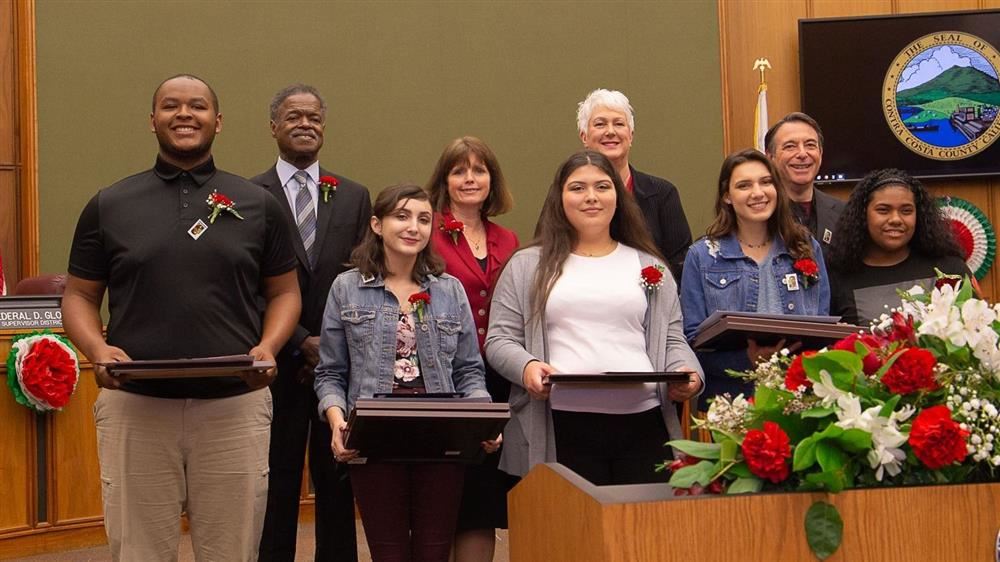 On a week night in late March the Contra Costa Board of Supervisors, recognized three West Contra Costa Unified School District students for their contributions in making their high school campuses a better place.
Pinole Valley High School senior Raven Richardson and Richmond High School seniors Rita Benitez and Marlen Munoz were honored as the 2019 Contra Costa County Youth Hall of Fame winners in the Perseverance, Good Samaritan, and Teamwork categories, respectively.
Please take a moment to read Raven, Rita, and Marlen's story.
Raven Richardson, Pinole Valley High School, Perseverance Category
Raven Richardson Jr. can tell you to the day how much time he spent in the group home in the tiny Northern California town of Canby as a troubled 14-year-old: 9 months, 26 days.
"They opened my eyes to see that the world is going to move whether I like it or not," said the 18-year-old Pinole Valley High School senior. "They motivated me to be a whole different person that I thought I could never be."
The stint in the group home was among a number of eye-opening experiences Raven experienced as a youth who was in trouble with the law (including a two-month stay at juvenile hall), in trouble with school administrators, and in and out of homes. His future looked anything but bright when he was transferred to Pinole Valley from Richmond High as a freshman because of ongoing behavioral problems.
"I used to be a troubled kid," Raven says. "I used to fight a lot, I used to curse out teachers. When I was in ninth grade, I was getting into a gang."
Three years later, Raven's metamorphosis into one of the most popular, admired members of the Pinole Valley student body, respected by staff and students alike, has been nothing short of remarkable.
No one has been more amazed than Pinole Valley Principal Kibby Kleiman, whose nomination led to Raven being recognized with a 2019 Contra Costa County Youth Hall of Fame award in the perseverance category. Known as the school's gentle giant for his large frame and brimming smile, he received the honor along with four other youths during the county's Cesar E. Chavez Commemorative Celebration on March 26.
Kleiman had little reason for optimism when he agreed to accept Raven on what's known as a "safety transfer.".
"Our success rate with those kids is not high," he said. "Raven has been anything but trouble. He's a stellar citizen of his school and leader on his team. He is well-regarded and well-loved, not just for the obvious things."
Raven said a big part of his turnaround story lies with the welcoming, inclusive environment at Pinole Valley, and the sense of purpose he found playing football (he helped lead the Spartans to an undefeated regular-season record this past season as an offensive and defensive lineman).
"Football opened so many doors for me. That's when the light clicked in my head. 'Raven, you have a gift,' " he said.
Pinole Valley turned out to be the best place to pursue that gift, despite the fact he often found himself leaving his Richmond home at 5:30 in the morning to take public transit to school, and not returning until 7:30 or 8 in the evening on practice days.
"As I came to Pinole, I saw students working together, love everywhere," he said. "I had never seen that before.
"I came to Pinole and started wanting more for myself and those around me."
One of the clearest signs for Kleiman that Raven had turned the corner came when he learned of his role in breaking up a significant fight involving teammates one day before school. It was only after a school investigation that Kleiman learned what Raven had done.
"We thought, 'How did this fight end?' " Kleiman said. "It's a testament to the kid's character. He didn't come across and say, 'I did this.' I had to figure it out for myself."
As he completes his high school journey, Raven's future looks infinitely brighter than when it started. He's considering where he would like to continue his football career, and has visited colleges in Montana and Oregon while also looking at community colleges closer to home.
Wherever the future takes him, his legacy at Pinole is secure, as Kleiman made clear in his nomination letter to the Board of Supervisors for the Hall of Fame award.
"He has made a difference in the life of our school," Kleiman wrote.
Rita Benitez, Richmond High School, Good Samaritan Category
As a staff member at Richmond High School's Health Center for the past six years, Malaika Gray has worked alongside dozens of "student leaders" in helping to meet the physical and emotional needs of students.
But she says no one has matched the level of leadership Rita Benitez has displayed in finding ways to reach out to students who are struggling to navigate life's challenges.
"We have had over 40 Leadership students over the years I have been at the Health Center, and Rita is the only one who has consistently noticed when her classmates are having a hard time and brought them to the center," Gray wrote to the Contra Costa County Board of Supervisors in her letter nominating Rita for a county Youth Hall of Fame award.
"She can see when other people are hurting," Gray added in an interview. "She just puts her hand out there and lets them know she sees them. Whatever difficulty she's faced in her life, she's turned it into something that's helping other people."
That passion for helping her fellow students through hard times has earned Rita the 2019 Youth Hall of Fame honor in the Good Samaritan category. She was honored along with four other teens at the county's Cesar E. Chavez Commemorative Celebration on March 26.
Rita, a 17-year-old senior, became acquainted with the Health Center when she began visiting it for dental appointments. Later, she took advantage of the counseling services there before deciding to become a student leader when she learned the center was in need of more student help.
Instead of simply waiting for instructions from adults, Rita decided to take the role literally, searching out students who could benefit from the center's services.
"I take on a lot of leadership there," she said. "I don't wait for someone to tell me what to do. When I see someone in the hallway crying, I just bring them in. I just help out the little that I can do."
The assistance Rita provides her fellow students can be as simple as helping to find a quiet space for someone who needs some time alone or making sure they're provided snacks.
But, as Gray noted in her nomination letter, she's not shy about wading into more delicate situations. In one case, Rita advocated on behalf of a student who was going to be suspended and proposed a resolution rooted instead in restorative justice.
"She can relate to a lot of people going through difficult things," Gray said.
Rita's leadership skills also have manifested themselves in other areas of the school. She's president of the Richmond High theater club and a fixture in school dance performances.
"She is the one person that can always be relied upon to put forth her maximum effort to make sure the performance is a success," her jazz dance teacher, Vicki Tukeva, said. "I have had the pleasure of her company since she was a freshman, and I will miss her dynamic presence and sense of humor when she graduates."
Rita says she's thinking of joining the Navy upon graduation. The reason she gives should come as no surprise, given her track record as Richmond High's Good Samaritan.
"I just want to serve," she said.
Marlen Munoz, Richmond High School, Teamwork Category
When Richmond High senior Marlen Muñoz started attending San Pablo Youth Commission meetings in 2016, she was quiet as a mouse.
Naturally shy, Munoz would bring her cousin to the meetings, according to Elise Veliz, the city's coordinator of the commission, and the two would whisper ideas to one another.
In time, however, Munoz found the confidence to speak and take on a leadership role, helping to facilitate workshops, recruiting new members and making presentations to the City Council. She played a key part in developing new goals for the commission that were approved by the City Council in 2018, and was elected chair of the group in November.
"Once she started to come out of her shell and thrive in events, it made her want to take on leadership opportunities and reach out," Veliz said. "She's really become the face of our group. It's been really cool to see her progression over the years."
Veliz was so impressed by Munoz's growth that she nominated her to the Contra Costa County Board of Supervisors for a 2019 Youth Hall of Fame award. Marlen was honored in the teamwork category during the county's Cesar E. Chavez Commemorative Celebration on March 26.
"I think the Youth Commission has really helped me to speak out and be less timid," Marlen said.
When Marlen heard a presentation about the Youth Commission during her freshman year at Richmond High School, "it just sparked something in me," she said.
When Marlen lived in Fairfield, she rarely saw events that brought the city together, but when her family moved to San Pablo, she noticed a difference. There seemed to be a greater sense of unity among residents, and she wanted to be part of it.
"When I saw all the events, it just made me want to participate and create change for youth in the city," she said.
Her work on that front continues. Recently, she's had a significant hand in organizing a youth summit event that will be held April 24 at Helms Middle School. She's also proposed a city-sponsored college scholarship for high school graduates who live in San Pablo patterned after Richmond Promise.
Beyond her work on the San Pablo Youth Commission, Marlen also was hired for a job in the city's Recreation Department. In November, she coordinated activities for the city's Thanksgiving Break Camp, and will be working to organize field trips during the upcoming spring break. She's also helped to teach young kids cooking skills so that they're able to prepare simple meals for themselves.
In addition to all her work for the city, Marlen has maintained a 4.0 grade point average at Richmond High and is looking forward to attending a four-year college next year. She plans to major in psychology, and is interested in starting a nonprofit that will help keep youths out of the criminal justice system.
"I feel happier when I'm helping with the community," she said. "To know that I'm helping someone else's life, that is really rewarding to me."