Return to Headlines
Wow Factor: 54th Annual Student Art Show Pieces Impress Audience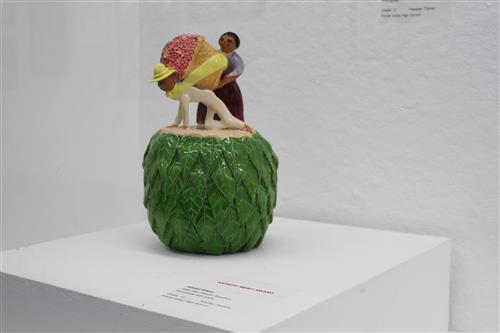 It was hard to tell which were the student art pieces and the professional pieces at the 54th Annual Student Art Show reception on Tuesday, April 16.
More than 450 art pieces from 387 students across the West Contra Costa Unified School District's middle and high schools are on display and sharing the space at the Richmond Arts Center. At Tuesday's reception, the public had a chance to celebrate the artists and admire the work.
"Art is an outlet for students to share their stories," WCCUSD Visual and Performing Arts Coordinator Patrick Martin said. "You have kids that have talent and we have a great cadre of teachers that bring it out."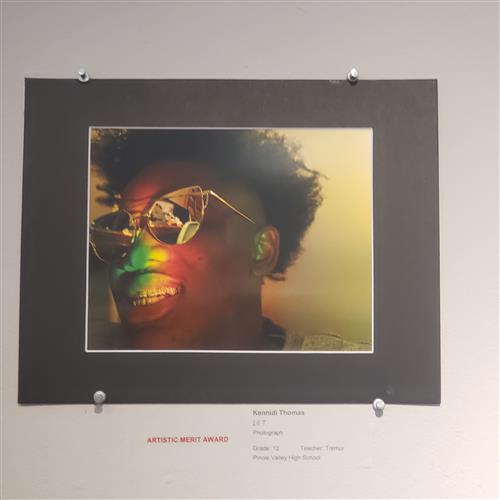 Greenwood Academy's Lilia McIntyre is one of those teachers. McIntyre was full of pride seeing Amareli Rivera's Garlic and Onion's photo, which won an Artistic Merit Award.
"This is awesome," McIntyre said as she snapped a photo of the piece. "I want her (Amareli) to see that her work is out here in the world."
Amareli was one of 19 students that were recognized with a Artistic Merit Award or Honorable Mention. The winners were recognized at the ceremony by WCCUSD Superintendent Matthew Duffy and Richmond Art Center Executive Director Richard Abrose.
Students used a variety of mediums and methods in their pieces, ranging from watercolors, colored pencils, digital photography, charcoal, clay, and many more.
Visitors were treated to music from Pinole Valley's Jazz band and were able to view the art pieces in two hallway wings of the gallery.
The art show display continues through Wednesday, April 24 with gallery hours from 11 am to 5 pm Tuesday through Saturday.
Here is a complete list of the winners:
Artistic Merit Awards
Ella Winchester, Corrupted Deer Bunny, Ceramics, 4" x 3" x 5", De Anza High School, Grade 12, Teacher: Paesch
Kilty Huskisson, Excerpts from the Polar Bear Series, Ceramics, 4" x 5" x 3", De Anza High School, Grade 11, Teacher: Paesch
Sarah Wildwind, Portrait, Mixed media (including wax), 9" x 9", El Cerrito High School, Grade 12, Teacher: Jun
Desirae Crochet, Benin Togo Inspired Mask, Paper mache, 11" x 8" x 10", Fred T. Korematsu Middle, Grade 8, Teacher: Ruiz
Hailey Ramos-Cedano, Multi medium drawing, Color pencil, ink, charcoal, 9" x 12", Helms Middle School, Grade 8, Teacher: Jackson
Zhongzhi Wang, Salvation, Acrylic, 18" x 24", Hercules High School, Grade 12, Teacher: Schrampf
Micheal Sterlino, The Destroyer, Altered Digital Photography, 11" x 14", Hercules High School, Grade 11, Teacher: Schrampf
Diana Salas Cruz, Untitled, Charcoal, pastel, 20" x 20", Kennedy High School, Grade 12, Teacher: Mainini
Kennidi Thomas, Lil T, Photograph, 8" x 10", Pinole Valley High School, Grade 12, Teacher: Tremor
Hanan Eissa, After the Flower Bearers, Stoneware with glaze, 18" x 12" x 12", Pinole Valley High School, Grade 12, Teacher: Shokrai
Jasmine Valdivia, Trappin Scooby, Mixed media, 15" x 20", Richmond High School, Grade 12, Teacher: Hudson
Lizbeth Romero, Sweet Bliss, Mixed media, 11" x 12", Richmond High School, Grade 12, Teacher: Hudson
Amareli Rivera, Garlic & Onion, Photography, 8.5" x 11", Sylvester Greenwood Academy, Grade 11, Teacher: McIntyre
Honorable Mentions
Julia DeJesus, At the Beach, Tempera, 18" x 12", Hercules High School, Grade 12, Teacher: Schrampf
Gustavo Garcia, We want change, Mixed media, 15" x 20", Richmond High School, Grade 12, Teacher: Hudson
Leslie Saechoa, Untitled, Pencil, 14" x 14", Richmond High School, Grade 12, Teacher: Hudson
William Toledo, Musicians, Color markers, 18" x 12", El Cerrito High School, Grade 12, Teacher: Jun
Violet Gwathney, Art-ception, Mixed media, 16" x 22", Hercules Middle School, Grade 7, Teacher: Manipis
Zhanee Carter, Vib, Acrylic, 24" x 18", Hercules High School, Grade 12, Teacher: Schrampf