Return to Headlines
Recreating History: Longtime District Employee Creates Unique Project to Celebrate Black History Month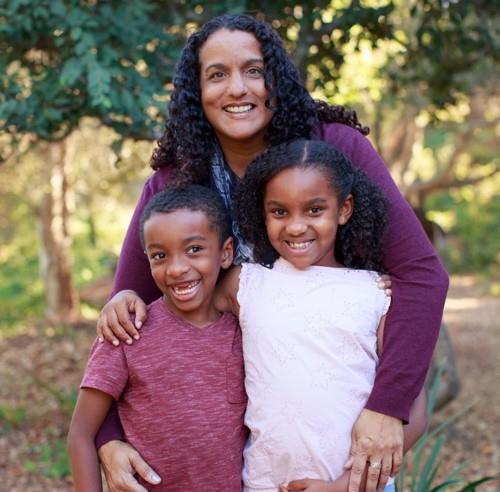 Nicole Joyner set out last year to have her twins (WCCUSD students) create a unique Black History Month photo project.
Joyner, the District's Director of Assessments, and her twins decided to research African-Americans both past and present and then celebrate them in a photo book.
In addition to the research and short bios about the individuals, the twins also recreated photos of the people, including Matthew Henson, the first African-American arctic explorer to Patricia Bath, an ophthalmologist and first African American woman doctor to receive a patent to Jeri Lynne Johnson, the founder and music director of the Black Pearl Chamber Orchestra in Philadelphia.
The twins selected 10 famous African-Americans and created a book to display their work. The Joyner family has produced two books, one from 2018 and one from this year. The District is also exploring how to incorporate Joyner's project into some of the elementary schools.
We sat down with Nicole and asked her a few questions:
Q: How did you come up with the idea for the Black History Month photo project?
Joyner: I read about a mother in England who did a similar project with her daughter and thought it would be a fun project to complete. The twins were learning how to write informational texts in their first grade classroom, so I added a brief writing assignment to each photo.
Q: How long have you been with the District and how did you get started?
Joyner: I started working for the district in 2000 as the GEAR UP coordinator. It was a split position working half time at WCCUSD and half time at UC Berkeley. I worked directly with students and families, following them from 7th grade at Portola through graduation at El Cerrito and Kennedy. As AP Incentive Grant coordinator, I coordinated College Board, AVID, and MESA programs supporting sites in increasing the number of underrepresented students participating in Advanced Placement courses and exams. As Grants and Special Projects Administrator, I coordinated college preparation efforts, Read 180, Cyber High, and geographic information systems (GIS). I am extremely passionate about working directly with students and families around college preparation and access.
Q: You are the Director of the Assessment Department, what does that mean and what is your team responsible for?
Joyner: The Assessment Department is responsible for federally/state-mandated assessments (CAASPP, PFT, NAEP), climate and senior survey administration, College Board assessments (PSAT, SAT, AP), the School Accountability Report Card (SARC), and Illuminate. We also support the M&M Department with ELPAC administration, the TLL Department with local assessment administration (FastBridge, STAR Reading, IABs), and the IT Department with data requests...and other duties as assigned.
Q: What is the best part about your work?
Joyner: The best part about my work, by far, is working with the Assessment Department staff. Stephanie Hearne, Michelle Aguero, Susana Montelongo, Dianna Saeliow, and Lesley Almanzar are dedicated, conscientious, and enthusiastic! I appreciate their flexibility and adaptability, as sometimes they are asked to turn left, even though they had been planning to turn right.