Return to Headlines
Spot Judgement: Science Fair Winners to be Announced Thursday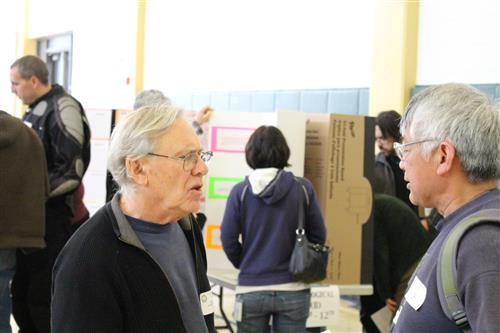 For the past 19 years, Dennis Claudio has pondered a wide variety of questions. Everything from "Are Facebook users, more or less lonely?" to "What heat do limonene molecules have the highest dissolving ability?" to "Do more suds mean a better clean?" have come across Claudio's path.
Tuesday afternoon at El Cerrito High School, the questions kept coming. Claudio has judged the West Contra Costa Unified School District Science/STEM Fair for close to two decades, taking up the task after his youngest daughter graduated from Kennedy High School in 1999.
Claudio judged projects that asked about Facebook but also "What pink hair dye lasts the longest?" and "How do animals keep warm in cold regions?" to "Do people become less able to perceive the flicker of LED lights as they age?"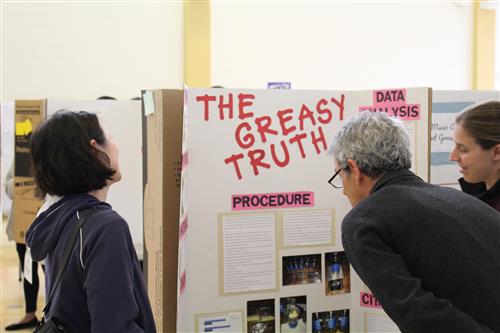 He was one of more than 30 judges from 12 organizations and universities across the Bay Area that took time out of their day to judge the 141 student entries from eight schools in the District.
"I just love it," Claudio said. "I do it number for the kids and second I just love seeing their projects."
We will have to wait and see which projects caught Claudio and the rest of the judges' attention when the District announces the Science/STEM Fair winners at 7 p.m. on Thursday, Feb. 14 in the El Cerrito High School Theater.
Claudio has his fair share of projects over the years. A 1969 graduate of Kennedy High School, Claudio competed in his first science fair as a middle school student at Granada, which was torn down and had Kennedy rebuilt on the land.
In that project, Claudio wanted to know if ions could form plasma. The complicated questions earned him second place, and he has been hooked ever since.
His daughters who graduated from Kennedy in 1997 and 1999 were also hooked competing and in one case winning the regional fair. That daughter, Jennifer Claudio, is now a science teacher at Oak Grove High School in San Jose.
"For me, judging these projects is the only way for me to stay smart," Claudio said. "It is also great to help and mentor the kids."