Return to Headlines
Special Delivery: Longtime Warehouse Supervisor Delivers Presents as Santa for the Final Time.
For the last 18 years, Jim Gant has donned a Santa suit and beard, gathered some toys and headed to a kindergarten class to spread some holiday cheer.
On Friday, Dec. 21, Gant put on the outfit for the final time, loaded up his white and red van with toys and set a course for Dr. Martin Luther King Jr Elementary School.
After 38 years working in a variety of capacities, including the last 10 as the warehouse supervisor Gant is retiring in June and hanging up his Santa hat too.
"This has been all about the kids," Gant said. "It is something I look forward to every year."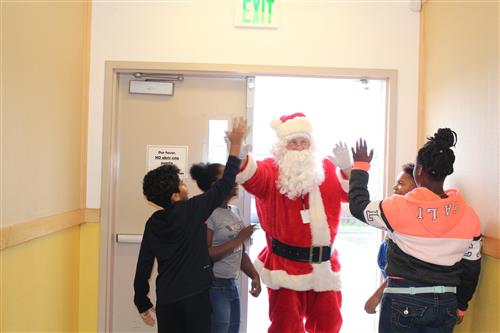 And it is not hard to see why the final Friday before winter break has been such a highlight for Gant.
The moment he … err Santa walked through Allison Rayford's classroom door, the kindergarteners all yelled "Santa!" and rushed toward him excited to see what he and his helpers had in the bags.
For the next 35 minutes, Gant handed out wrapped presents and posed for pictures with the kindergartners in classes taught by Marsha Hopper, Rayford and Lystette Perez, and Judy Long.
"Jim is the perfect Santa," Purchasing Supervisor Mary Kitchen said. "Jim is great caring person and you can see his eyes light up when he sees the kids."
Kitchen and two of her former colleagues Eileen Thibault and Ruthanne White started the toy/Santa program in 1998 as a way to give the District's purchasing department a way to interact with students.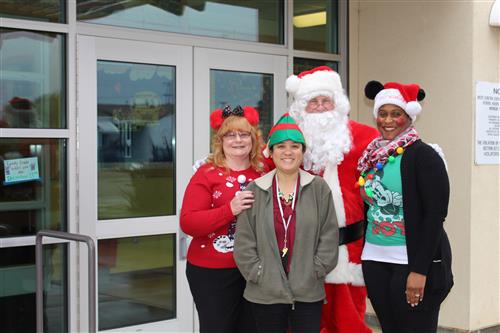 Each year since, kindergartners at one school per year are adopted by the team, who collects wrapped presents from employees in the District's administration building and facilities operation center. Kindergarteners at the selected school make Christmas tree ornaments with their pictures on them that the teams at both buildings select and then purchase a gift for the student.
The purchasing department and Gant have delivered presents to Verde, Coronado, Nystrom, Peres, Lincoln, Washington, King, Stege, Downer, Grant, Dover, Wilson, Ford, and Chavez elementary schools.
"When I first did it, I thought I was just a replacement, but then after I did it I said 'nah, I am doing it from now on'," Gant said. "Just seeing the smiles on the kid's face was worth it. I am going to miss it."