Return to Headlines
Better Together: WCCUSD Hosts 3rd Annual Special Olympics Basketball Tournament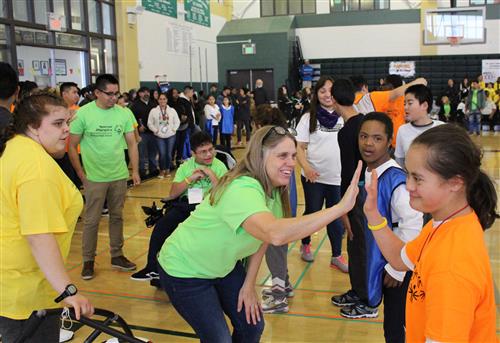 It was hard to tell who was more excited, John Mortel or his students.
The De Anza High School special education teacher spent Wednesday morning pacing the sideline, cheering, assisting on a few baskets, and glowing about his students.
For the first time in its three-year history the West Contra Costa Unified School District's Special Olympics Basketball Tournament was fully unified, meaning students with disabilities and general education students competed together and against one another.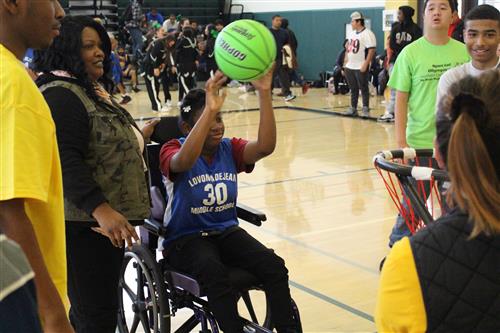 Students from De Anza, El Cerrito, Kennedy, and Richmond high schools; DeJean, Korematsu, and Pinole middle schools; and the Transition Program spent Wednesday morning on the hardwood living their hoop dreams.
"This is a proud moment for me because it includes everyone," Mortel, a special education teacher at De Anza High School, said. "We are getting everyone playing and moving."
The excitement wasn't limited to him.
Students both with and without disabilities shared in the competition, exercise, joy, and the celebration. Students who were not yet ready for the basketball tournament took part in a skills and drills event in the Gauchos' practice gym.
"I want everyone to have fun," Athletic Leaders Program Ambassador and El Cerrito High School freshman Ty Stitt said. "And I want them to exercise and enjoy life."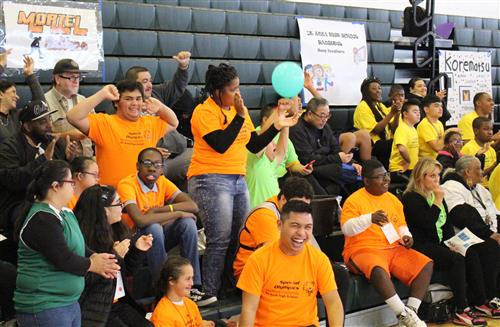 The unified tournament is part of the District's effort to include more special education students in general education programs. Early this year, under the leadership of Sean Corson, the District started a pilot program called Athletic Leaders where general education students from Korematsu Middle School and El Cerrito High School assist special education teachers with physical education.
"As you can tell, our collective voice is not only louder but strong," Adaptive Physical Education Specialist and tournament coordinator Sean Corson said. "Inclusive events such as this competition highlight our students individual talents, skills, and perspectives while fostering a culture of belonging, collaborative practice, innovation, and mutual respect."