Return to Headlines
Students Bring Home Medals from World Kickboxing Championships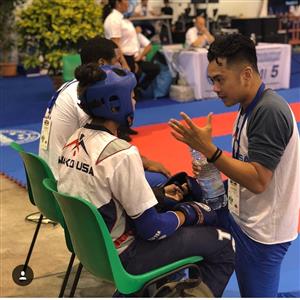 By Craig Lazzeretti
Special to WCCUSD
When Pinole Valley High School's football players started conditioning work for the 2018 season, senior Quinland Pastor had an immediate advantage over many of his teammates, despite the fact it was his first year playing the sport. He had already been training three or four hours a day five times a week at Dumlao's Academy of Martial Arts in Pinole.
"My teammates would always joke around and say it's all that Bruce Lee training that I do," he said.
Pastor's conditioning paid dividends both on the football field, where he was a receiver and safety on the Spartans' 10-1 team, and in the martial arts ring, where he joined four other West Contra Costa Unified School District students from Dumlao's studio at the 2018 Junior World Association of Kickboxing Organizations (WAKO) World Championships in Jesolo, Italy, in September.
Fellow Pinole Valley High senior Alyssa Dumlao and Hercules High seniors Terrell Carothers, Kaliya Sunga and Kayla Miyamoto also were part of the whirlwind journey that took them from the USA qualifying event in Kansas City, Missouri, in February to the world championships, which featured 2,400 competitors from 64 countries spread across five continents. In addition to the five WCCUSD students, the 42-member U.S. team consisted of martial artists from Florida, Texas, South Carolina, Oregon, Pennsylvania and Iowa.
Qualifying for the WAKO championships was only one of many challenges for the athletes, according to coach Sean Dumlao (Alyssa's brother). They had to raise their own funds to pay for the $6,000 per-person trip by selling raffle and casino bus tickets, working snack bars at local karate tournaments and setting up GoFundMe accounts.
Additionally, the students followed strict diet and training regimens to maintain their weight class designations in the nine months between the qualifier and world championships, not an easy task for growing youths.
"We were just trying to find different ways to maintain that weight, and these guys were in the best shapes of their lives," Sean Dumlao said. "When you put them up against the likes of Russia and the UK (United Kingdom) and Germany, these guys were right up there physique-wise. And mental-wise, it had a profound impact on their confidence. Most of these guys are pretty close skill level-wise, and it's going to be who's hungrier and who's the most confident in there."
That hunger and confidence translated into several medals for Dumlao's students. Pastor and Miyamoto won gold in the team event, and Miyamoto also won gold in tatami (point sparring), becoming the first U.S. junior to win an individual gold medal at the world championships. Carothers won a silver in light contact (or continuous sparring) and bronze in tatami, and Alyssa Dumlao won bronze in tatami and was a reserve on the gold medal-winning team.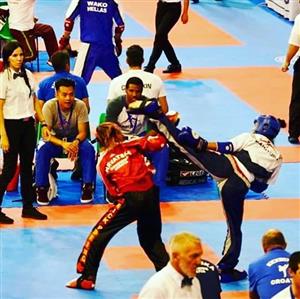 "I was very surprised that I was actually the first junior girl (to win gold)," said Miyamoto, a Hercules High volleyball player who, like Pastor, credited the stamina gained from her martial arts training with helping her high school athletic performance. "I wasn't expecting it because it wasn't really my intention, to be honest. I just went to Italy for the experience of it. I just like doing the sport basically for fun."
The five students also made it to the Junior WAKO World Championships in Dublin, Ireland, two years ago, an experience that Carothers said taught him important lessons about what he needed to do to compete against and defeat the world's best.
"I don't think I was truly ready for how great they were yet. I did not place (in Ireland), I was kind of lagging in the fight," he said. "When I knew, I came back working even harder, knowing how hard they go, and I've got to go two or three times harder than they do this time around. That's why I placed."
Although they weren't competing for their high school, the Hercules High students were recognized at a school rally for their performances in Italy, and videos of their matches were shown on YouTube.
For Alyssa Dumlao, the opportunity to meet and connect with athletes from around the world was as memorable as competing for medals.
"You would think oh, we're in a fighting tournament, they would want to be focused, but there were actually some really nice people," she said. "One of the girls in my division that I didn't place in actually asked me for some advice. I fought the girl that she was about to fight. I was able to give her some points on what worked for me, what didn't work for me."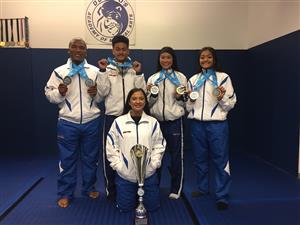 The five student-athletes all agree their experiences in martial arts also have helped them in the classroom, by teaching such skills as self-discipline and time-management. "It's more than just punching, kicking and defending yourself," Sunga said. "It teaches you discipline, it teaches you about family. It's more than just karate, it's a lifestyle."
Added Miyamoto: "Karate had me open my mind up and get out of my comfort zone and take more risks and face challenges."
After graduation, Pastor and Dumlao plan to pursue studies in kinesiology, Carothers wants to study biology with an eye toward becoming a veterinarian, Miyamoto aims to follow in her family's footsteps with a career in nursing, and Sunga is keeping her options open.
Whatever their future in martials arts, all of them owe a debt of gratitude to their coaches and instructors for the impact the sport has had on their lives. Sunga noted that coaches check on their grades to make sure they are getting the job done in the classroom, and Pastor recognized the tireless efforts of Sean Dumlao in helping them achieve such success.
"Nothing can equate to the sacrifices he's made for us," Pastor said.
Photos courtesy Craig Lazzeretti and Dumlao' Academy of Martial Arts