Return to Headlines
District Recognizes Partners During Annual State of Our Schools Breakfast
West Contra Costa Unified School District recognized five members of its community for their support of schools and students at the 13th annual State of Our Schools breakfast earlier this month.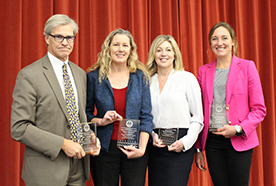 Teresa Barnett, executive director of Community Resources for Science; Bill Lindsay, City Manager (retired) for the City of Richmond; Susan Stark, CEO of Speech Pathology Group; Jessie Stewart, executive director at Richmond Promise; and Tony Thurmond, California State Assemblymember were recognized for their contributions to the District.
"Part of the reason this event is in its 13th year is because we value the partnerships that it takes to help students from throughout the District succeed," Superintendent Matthew Duffy said. "Everyone from the teachers, school site teams, district support teams, community partners, and parents and families are all part of the WCCUSD family working to ensure that students reach and exceed their dreams. These five partners have made valuable contributions to support our schools and our students in a variety of ways."
Teresa Barnett - Executive Director
Community Resources for Science
Teresa Barnett is the executive director of Community Resources for Science, a position she has held since 2009. Under Ms. Barnett's leadership, Community Resources for Science has been a key supporter of elementary school science programs in the District. CRS works with teachers to provide instructional support, including scientists who present to students in classrooms and grants for field trips and instructional materials. CRS also sponsors the annual CRS Science Super Star Challenge, recognizing teachers who who exemplify excellence in elementary science instruction.
Bill Lindsay - City Manager, retired
City of Richmond
Bill Lindsay served as city manager for the City of Richmond for 13 years, retiring this past July. During his tenure, he shepherded the city through the Great Recession, and worked to lower violent crime and improve the city's credit rating. While he was a success at running the city, he has also been a tremendous partner to the school district. Mr. Lindsay helped keep schools open during the District's financial crisis, has worked closely with me on several important issues, including employee housing solutions and school safety and he helped empower our students to have a voice on solving city issues through Y-Plan.
Susan Stark - CEO
Speech Pathology Group
As CEO of Speech Pathology Group, Susan Stark has provided immeasurable support to the West Contra Costa Unified School District speech department for more than 20 years. Ms. Stark has paid for outside presenters and provided free staff development to District staff members on a variety of topics, including autism, speech disorders and the disproportionate identification of African American students in special education. In addition, Ms. Stark and the Speech Pathology Group has readily supplied highly trained and in demand speech pathologists for our students during severe shortages of people to work in that field.
Jessie Stewart - Executive Director
Richmond Promise
As the founding executive director of Richmond Promise, Jessie Stewart provides leadership, fundraising, program coordination, and budget administration for the organization. During her tenure, Richmond Promise has awarded 1,315 scholarships worth $5.4 million to students from Richmond. Those scholars are represented at 96 colleges and universities. In addition to financial assistance, Richmond Promise works to reduce the barriers to college success through its near-peer ambassador program, high school to college transition support, financial aid workshops, college partnerships and campus peer networks.
Tony Thurmond - Assemblymember
State of California, District 15
This marks the second time Assemblymember Thurmond has has been honored with a Partner Award. Mr. Thurmond is a former member of the District Board of Education and former member of the Richmond City Council. Throughout his years in public service, he has been a strong advocate for young people and a staunch supporter of education. In 2017, Mr. Thurmond championed several bills that have led to $300 million in extra funding for the lowest-performing students in the state, increased funding for career technical education, and earmarked dollars to support LGBTQ youth. His efforts secured $125 million for the recruitment and retention of special education, bilingual and STEM teachers and $15 million for after-school coding programs.