Return to Headlines
District Offered Students Entrance Exams on College Day
De Anza High School students Samuel Thayer and Emir Davis have bright futures. Emir is a senior who plans to enter the kinesiology program at San Jose State University. As a football player and member of the track team, Emir (pictured here) knows that he wants to become an athletic trainer.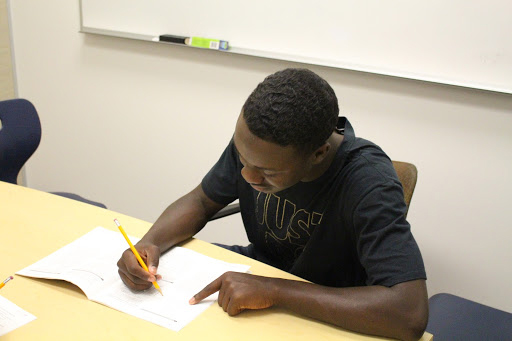 Samuel's dream is to study architecture or city planning at the University of Southern California (USC). "I'm staying on top of high school to be ready for college," he said.
Samuel and Emir are both taking an important step towards college today by taking college entrance exams at school with their classmates across West Contra Costa Unified School District (WCCUSD).
For over 15 years, WCCUSD has offered the PSAT NMSQT and SAT free of charge and during school hours as part of the district's annual College Day. The SAT is an entrance exam used by most colleges and universities to make admissions decisions. Scores on the SAT are an important factor in determining which options students have for attending and paying for college. The PSAT prepares sophomores and juniors to take the SAT in their senior year. It also helps identify students for scholarships.
Offering the exams for free during the school day has an undeniable impact in a district where 69 percent of students come from low income families. This year, more than 900 WCCUSD sophomores and juniors will take the PSAT NMSQT and nearly 2,000 seniors will take the SAT.
"Providing college entrance exams at school is an important equity tool to ensure that all students can test," De Anza Principal Summerlyn Sigler said.
In addition to College Day testing, De Anza has done a lot of work to improve students' college and career readiness. One indicator of success is the number of students who complete "A-G" College Entrance Requirements. These are a sequence of high school courses that students must complete successfully to be minimally eligible for admission to the University of California (UC) and California State University (CSU). De Anza improved its college readiness rate by 19 percent from 35 percent in 15-16 to 54 percent in 16-17. College readiness rates increased for Latino/a students by 24 percent from 33 percent in 15-16 to 57 percent in 2016-17. This is 11 percent higher than the state average of 46 percent.
View A-G completion rates online using DataQuest, the State of California's school district data reporting system.