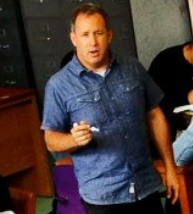 Phone:
Email:
Degrees and Certifications:
Mr.

Hulse

I'm so excited to be a Vista Tiger! I'm Mr Hulse (rhymes with pulse) and I'm very happy to be teaching geometry again after a break. I've been teaching math in Richmond since before my students were born (I tell them that's all they need to know!), and though I'm not sure I can exactly say that I love math, I do love students and I love the feeling of getting un-confused together.

I have so many interests outside of school I don't know where to start: music, the outdoors, reading, and service are definitely among them. I'll be looking for students interested in forming some organized activities around shared interests (yes, we'll be COVID safe!) so let me know if you have any great ideas.

Regarding my own educational journey, I sometimes look back and wonder how I made it at all. I had awful study skills, which has caused me to want to help students find their most efficient ways of learning. I barely made it to college, which has led me to devote more than twenty years to helping students to and through college. I spent a long time not knowing what I wanted to study or do, which has led me to mentor hundreds of students through their own journey into successful careers.

In spite of the pandemic, I still think that learning--especially in a close community like I find here at Vista--can be one of the great joys of life. I'm grateful to be part of this journey with you.

Geometry Class sections:

M/W 11:30am-12:30pm and T/Th 1:30am-2:30pm

Here's the zoom link. Please email your supervising teacher or me for the passcode.