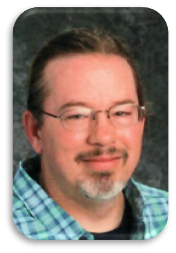 Phone:
Email:
Degrees and Certifications:
Mr.

Steve Hoffman

I grew up in Southern California and attended UC San Diego for several years, then took a fifteen-year "gap career" to tour and play music professionally. I toured and recorded with some fairly well-known (and some not-so-well-known) singers and music groups, worked as a recording engineer, and wrote music for commercials and films. I mostly play piano and other keyboard instruments, though I can also play a little bit of drums, guitar, and even the carillon, which I studied and played while working at the UC Berkeley Music Department and Center for New Music and Audio Technologies (CNMAT). Music took me to every state (except Maine), Europe, Canada, the Caribbean, South and Central America, and Mexico, where I met my wonderful wife, Sarai, in 2003. Tired of being on the road more often than at home, I returned to school and received my bachelor's degree in English/Creative Writing from Sonoma State University. I earned my teaching credential and master's degree in online teaching and learning from CSU East Bay. I've been teaching English and social studies at Middle College since 2005.

One of my main goals is to help students continue learning how to think critically, whether questioning advertising and propaganda or the textbook and typical curriculum. I try to incorporate music and art into my teaching whenever possible. I love to encourage creativity throughout the year, and I firmly believe that along with critical thinking skills, the arts in education are needed now more than ever. I sponsor the MCHS Music Club, which receives funding from Little Kids Rock and other sponsors such as MasterClass.com to provide instruments and instruction to our students. We also run the p.a. system at MCHS rallies and other events.

I have presented at numerous conferences on the topic of arts integration in the classroom, including the California and National Councils for the Social Studies, the National Council for History Education, and the Middle College National Consortium. (I still love to travel!) I was a Teacher Leader for the WCCUSD Teaching American History Project, travelling to conferences and historical sites such as Birmingham and Selma, Alabama, as well as Washington, D.C., for professional development on Civil Rights history and resources. I also organized teacher professional development workshops for the California Administrative Office of the Courts.

During my summers, I work for the National Park Service (NPS) and UC Denver, teaching an online graduate education course to teachers in the NPS Teacher/Ranger/Teacher Program. Before teaching with the program, I worked as a Teacher Ranger at Rosie the Riveter National Historical Park in Richmond. I use local, state, and national parks for place-based education in my classes whenever possible, and my wife and I are currently working on videos highlighting the local history of the Bay Area. (Ever wonder how Hercules got its name or why the Giant Highway is called "giant" but only has two lanes? Did you know the two are related, or that Hercules was a slayer of Giants?) I am a firm believer in the early/middle college approach to education, and have been a member of the planning committee for the California Coalition of Early and Middle Colleges Dual-Enrollment Conference for the past eight years. I work part-time for CCC, administering a Chancellor's Office grant that funds some of the student-support services at MCHS, including tutoring and the Wright Institute.

I keep really busy with work, which is what I love to do and why I am here. I love working at Middle College and with students who are already becoming "tomorrow's leaders" despite facing all sorts of challenges. I am always happy to help students with college and scholarship essays so that they can continue on their educational journey. I also work closely every year with KPIX/CBS Students Rising Above and have helped over two dozen MCHS students successfully be accepted into this program. I am here for our students and will always advocate for them in every way possible, whether through writing recommendations or giving a student a pep talk before performing at a rally.