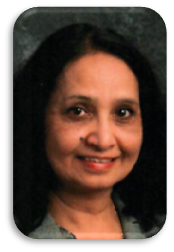 Phone:
Email:
Degrees and Certifications:
Mrs.

Mary Bhambra

A Glimpse of Who I Am

I hail from Kerala, India, a region quite similar to Hawaii in its unique cultural heritage and climate, since it was protected from invaders for centuries by the vast Indian Ocean; however, Kerala is more famous for its spices like cinnamon, cloves and black pepper, for which people like Columbus, Vasco de Gama, and the British sailed across oceans to procure.

My parents realized the value of a higher education; two of my siblings went into medical school, and there is no dearth of physicians in my family, but with regard to the interpretation of literature or the English language I am the person they usually consult. I opted for literature as an elective in high school, majored in English literature for a degree in Bachelor of Arts, and then went on to complete my Masters in English through Kerala University - which is an excessive amount of study on a subject, I must concede.

I taught English for about six years in India until we decided to move to the United States when politics took a turn with the assassination of Prime Minister Indira Gandhi and several Sikhs were a target of fury in Northern India. To my husband, who was a naval aviator and a Sikh, this was the deciding factor to move to the United States. I was excited to experience this whole new world, of which I had heard from my parents and siblings - they had immigrated earlier in the wave of "brain-drain" of qualified underemployed in the heavily literate Kerala State.

I received my teaching credential through San Francisco State University, and my first job in Richmond High School where I taught for 12 years, gaining invaluable teaching experience, professional development, and support from colleagues who were like family to me. Unfortunately, the "turn-over rate" in RHS saw an exodus of many colleagues, therefore when Middle College had an opening for an English teacher, I grabbed at the opportunity and was selected at the interview panel for applicants.

This is my tenth year of teaching English to Middle College students and they have been the most wonderful experience in my life. I love the academic rigor and focus of students who have the motivation and ambition to perform their best, but most of all I love the diversity, willingness to collaborate, and work as a team, when they are required to do so.

Besides teaching, some activities that give me joy are reading, gardening, cooking, and spending time with my 5 grandchildren. That might seem rather home-bound, which is far from my adventurous side that loves the thrill of zip lining - which we did while vacationing Hawaii. I also love hiking, jet skiing, para-sailing, canoeing, simulated dog-fight in a fighter aircraft - in which I won the most points, beating even my aviator husband… surprised?

That's me, in a nutshell.